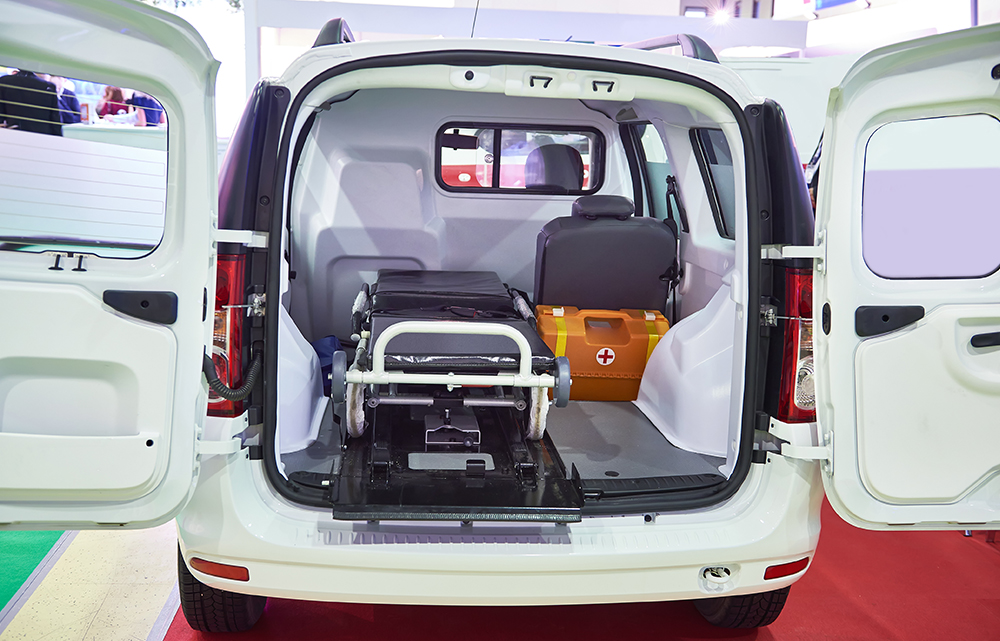 So, you're an NEMT service provider with all the must-have equipment installed and available in your NETM vans. But do you know that having optional equipment can help you go the extra mile and provide unparallel services to patients using your service?
Every NEMT must have ADA-compliant vans that contain gurneys, walkers, wheelchairs, first-aid kits, etc. However, a van with optional equipment will allow your NEMT business to flourish and ensure the maximum convenience and safety of your customers. 
So, let us find out why you need optional equipment in your NEMT vehicles. 
Benefits of optional equipment in NEMT vans/vehicles
You can divide optional equipment for NEMT vehicles into seven different categories. Let us find out what they are and how they can be beneficial. 
While an NEMT may have a basic stretcher and gurney, you can go for a more advanced combination version with a spine board and head separator. Other variants, such as scoop or vacuum stretcher, can help you deal with various emergencies. 
First aid equipment

A basic first aid kit is must-have equipment for any NEMT vehicle. However, the more optional equipment you add to your kit, the better service you will be able to provide. For instance, you can add a portable or wall-type blood pressure monitoring device. This can help you monitor a patient's blood pressure level in case of an emergency. 
A reanimation kit along with a portable oxygen unit can also help you ensure the safety of critical patients using your NEMT services. 
Having optional medical devices offer you a chance to save lives by providing instant medical attention in severe emergency cases. For example, installing an infusion pump in your NEMT can help deliver fluids to the patient's body. On the other hand, a transport ventilator can help you stabilize the patient and keep them breathing on the journey to the hospital. 
Other devices in this category include sugar measuring devices, syringe pumps, monitor defibrillators, etc. 
Stabilizer equipment allows you to ensure patients' safety using various medical equipment. For example, you can use an inflatable splint, an inflatable limb-shaped plastic piece. A thorax drainage set will help you drain any blood and other fluids from a patient's chest and prevent choking and suffocation. 
These are general medical supplies that can come in handy in different circumstances. These include a burn set, heat insulation container, funeral bag, and emergency birth set. 
Oxygen systems

You can use an oxygen tube bar, stationary vacuum system and an oxygen system including a regulator, prize, flow-meter and moisture link. These optional devices can better equip your NEMT to save people's lives. 
While not precisely electrical equipment, having specific disposable material in your NEMT van will help provide better first aid and services to your patients. These include oxygen masks for adults and pediatrics, nasal oxygen cannulas for adults and children, suction catheters, urinary catheters, etc. 
Great NEMT service requires flawless management
However, a fully-equipped NEMT vehicle is as effective as your backend management. This is where NEMT software comes into the picture. RouteGenie is NEMT management software that will not only help streamline your business' internal as well as external services. 
From optimizing your schedule to making your documentation a paperless operation, you can optimize several operations. RouteGenie will allow you to streamline your billing and payments, selecting the right vehicles, ensuring on-time dispatch, route optimization, and monitoring drivers. 
Using this NEMT software, you will have access to a tool that will allow you to communicate better with your drivers as well as your passengers. You will also be able to identify upcoming trips that might be a no-show by the drivers and require you to confirm the driver's availability before dispatching them to the destination of the passenger. 
If you are an NEMT service provider looking for a solution to automate your operations for accuracy, efficiency and high performance, RouteGenie is the answer. The best part is that you do not need to make any commitments before you decide to make a purchase. You can book a free demo to see the software in action and how it will boost your operations with some of the most innovative features. If you are interested in learning more about RouteGenie, book your free demo now!