Dispatching is one of the first steps in the non-emergency medical transportation process, which means the way trips are dispatched will impact everything that follows. In order to maximize their efforts, providers should use transportation dispatching software to find the most efficient routes, pinpoint the best driver for each trip, and detect multi-loading opportunities whenever possible. This is nearly impossible to achieve correctly if you're dispatching by hand, but with our RouteGenie dispatching tool, it's as simple as ever. 
Search for multi-loading opportunities in every trip
When it comes time to dispatch a trip, RouteGenie's "find vehicle" tool works to discover any multi-loading opportunities for your drivers. Once a multi-loading opportunity is located and additional passengers are selected, the system creates a logical pick-up and drop-off order for your drivers. When your dispatchers are happy with the route, they can assign the trip to a driver, beginning the trip process. Our intelligent multi-loading tool cuts down on both drivers needed and vehicles on the road, saving you time, money, and fuel.
Find the most efficient routes
Discovering the most efficient routes possible for every trip is a huge part of providing the best trip experience possible for passengers. RouteGenie automatically searches for the fastest and safest routes before dispatching a trip, so your drivers don't hit bad traffic, dangerous terrain, or anything else that could slow their progress down. 
Track trips in real time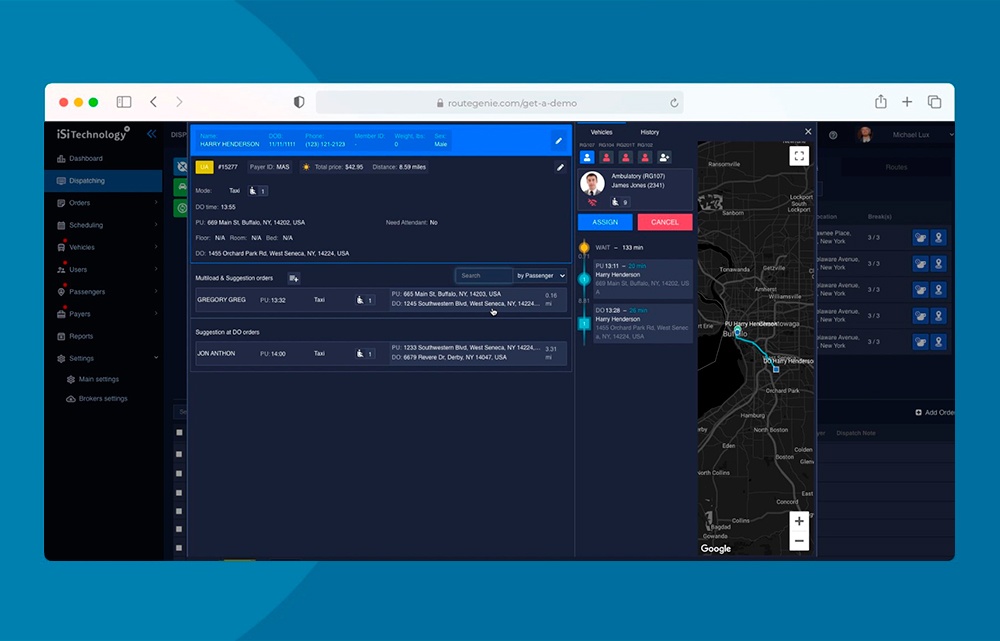 You want to make sure every passenger gets to and from their appointment safely and on time. RouteGenie's real-time tracking capability makes it easy to watch a trip unfold as it's happening. This way, you can see if your drivers are on the correct route, whether they make any personal stops along the way, and ultimately make sure the passenger arrives on time. Plus, if you find that the intended route is no longer the most efficient one, it's easy to send drivers trip updates right within the system. 
Choose the right vehicle every time 
If you're doing ambulatory, wheelchair, and stretcher trips at your business, it's crucial that you choose the right vehicle for each passenger. For instance, if you're transporting a passenger in a wheelchair but dispatch a vehicle without wheelchair security, that's a huge problem. RouteGenie identifies these needs and suggests the best available vehicle every time per passenger needs. 
See how simplified dispatching changes the entire NEMT process
If you want every trip to run seamlessly, you need to be successful from the start. RouteGenie's intelligent dispatching tool makes that possible. Take the guesswork out of scheduling routes and selecting vehicles and drivers, and book a demo to see our dispatching software in action!