The patient care report (PCR) or driver questionnaire is an important component of every non-emergency medical transportation trip. The PCR is essentially a checklist that shows passenger information, vehicle information, and general trip information. While a PCR can be completed on paper, it's much more efficient to handle the process electronically. With RouteGenie, it's easy for drivers to complete the questionnaire for every trip right within the software system. 
Simplified and safe record keeping 
PCRs are recorded in our HIPAA-compliant, cloud-based ePCR software, so you know that all passenger data is safely stored. RouteGenie's driver questionnaire is simple and takes only minutes for drivers to answer and submit all relevant information including the passenger's medical history, mobility, oxygen levels, vitals, and vehicle information. They can also choose which payers are responsible for the trip, and what type of transportation is used for that particular trip. All of this information is easily collected and stored for later use. 
All necessary data is collected for every trip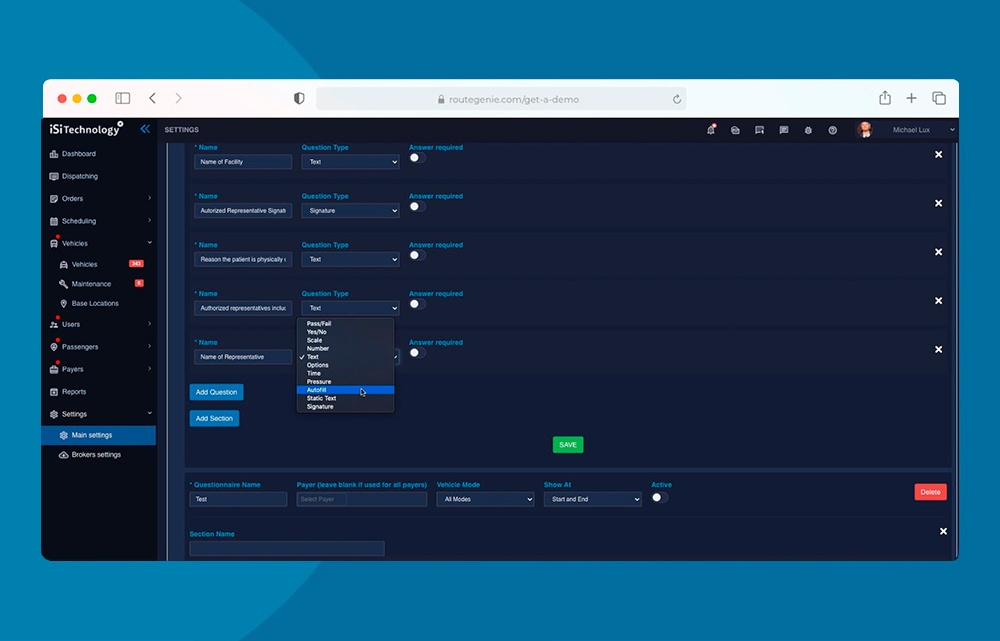 It's easy to get distracted right before or after a trip, but the electronic PCR keeps drivers on track and ensures all necessary information is collected and saved. If you're scrambling to record information by hand, there's a good chance something important will be left off. Plus, if any fields are left blank, the system will alert you so that no information is missing from the final report. 
Access all patient history in seconds
Your drivers complete dozens of trips every day, which means there's no way they'll remember everything there is to know about each passenger. RouteGenie stores all information for later access, so you and your drivers don't have to stress about remembering details on the fly. Electronic patient data makes sharing that information with anyone who needs it a breeze, rather than shuffling to photocopy handwritten notes. 
Find a better internal workflow
The RouteGenie driver questionnaire does the tough work for you. It makes importing patient data a seamless step in the trip process, so your drivers can focus on providing passengers with the best trip experience possible. When the trip is finished and it comes time to bill, you already have all the information needed saved in the system. 
Stay on top of patient information with the RouteGenie PCR feature
Whether your drivers prefer filling out a PCR in the driver app or in the full software, RouteGenie makes it easy no matter what. If you're looking to simplify your PCR process, or your NEMT trip process in general, schedule a free demo for an inside look at our NEMT driver app and transportation scheduling software.