RouteGenie is a modern non-emergency medical transportation scheduling software platform with trip booking capabilities for every type of customer.
RouteGenie makes it easy for providers to receive trip requests directly in the system, build a perfect driver schedule every day, and optimize routes on-the-fly. Our NEMT scheduling software does that and so much more.
How does trip scheduling improve with non-emergency medical transportation scheduling software?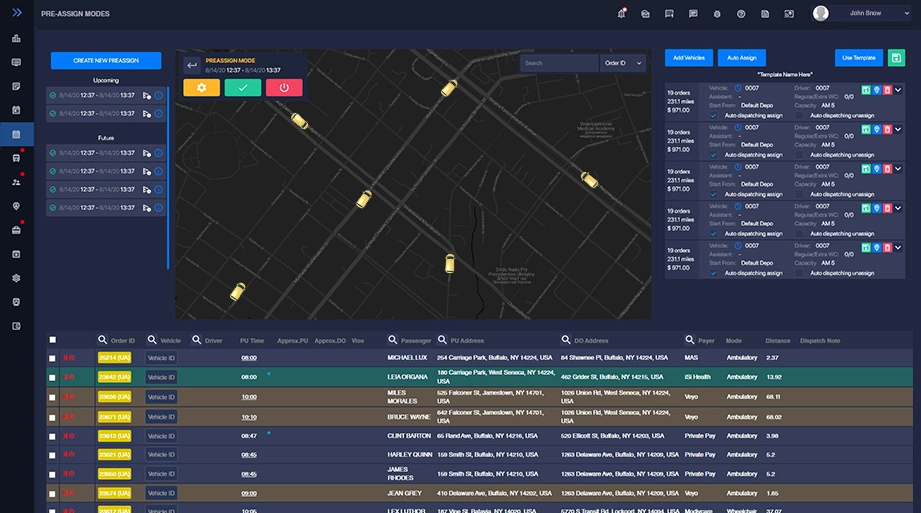 Find the best vehicle and driver for every passenger.
Schedule trips ahead of time so they can be dispatched on time, every time. 
Take the hassle out of trip scheduling and automate the process to save time and money.
Search for multiloading opportunities in every trip to use fewer drivers and vehicles every day.
Experience a seamless medical transportation experience when you switch to NEMT scheduling software.
Get a Demo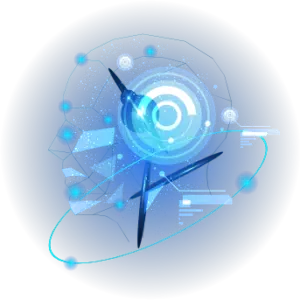 About 4 million Americans miss or delay important medical appointments each year because they don't have access to proper transportation. That's where NEMT companies come in. Providers across the country are responsible for transporting NEMT passengers to and from healthcare visits, but non-emergency medical transportation isn't without its challenges. Inefficient scheduling, no-shows, cancellations, traffic problems, vehicle breakdowns, driver call-offs, and many other inconveniences can interfere with daily trip schedules. NEMT scheduling software reduces these issues by automating the scheduling process. With RouteGenie, you can increase your productivity while reducing your labor.
Get a Demo
RouteGenie is an automated NEMT scheduling software solution that helps providers create the most efficient schedules faster than ever before.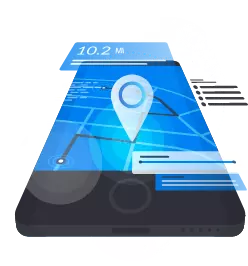 The RouteGenie team developed modern medical transportation scheduling software to make trip scheduling simpler for NEMT providers. The comprehensive software system builds optimized schedules, offers flexible dispatching, and is customizable to individual business needs. 
RouteGenie handles real-time trip changes like add-on and on-demand trips, will calls, no-shows, cancellations, driver call-offs, vehicle breakdowns, traffic problems, and more. 
See how your business will benefit from RouteGenie with these great software advantages:
Optimizes scheduling

Ditch your manual scheduling process for good! RouteGenie reduces the amount of time spent on scheduling by automating the entire process. The NEMT software pinpoints the best drivers and vehicles to create the perfect schedule.

Real-time visibility

Dispatchers can watch trips unfold in real time and adjust routes or any other trip details to improve the overall performance.

Real-time communication with drivers

RouteGenie makes it easy for dispatchers and drivers to communicate. Drivers always have the most up-to-date information and dispatchers can track each trip and adjust routes as needed.

GPS tracking

Built-in GPS tracking makes locating any driver possible in seconds. It also improves location accuracy and makes it possible to find multiloading opportunities on-the-fly.

Reduced driver labor

The system searches for multiloading opportunities with every trip, so drivers make fewer stops and your NEMT fleet sees fewers vehicles on the road.

Available on any Internet-enabled device 

Your team can stay up-to-date no matter where they are. Our web-based NEMT software is accessible from smartphones, tablets, laptops, and desktop computers for optimum convenience.

Enhanced on-time performance

RouteGenie pinpoints the best pick-up and drop-off windows for every trip to ensure drivers are always on time.

Optimized routing

NEMT software finds the fastest, most efficient routes and adjusts throughout the trip if needed.

Reduced costs

RouteGenie reduces the amount of drivers and vehicles your company has on the road, saving you money on both employee labor and vehicle maintenance.
Our NEMT scheduling software is built to satisfy all provider needs, perfect for NEMT companies both big and small anywhere in the world. With RouteGenie, passengers can count on safe and reliable rides, and you can count on a better business overall.
Get a Demo
Take your business to the next level with our NEMT scheduling software!