How to Market and Grow Your NEMT Business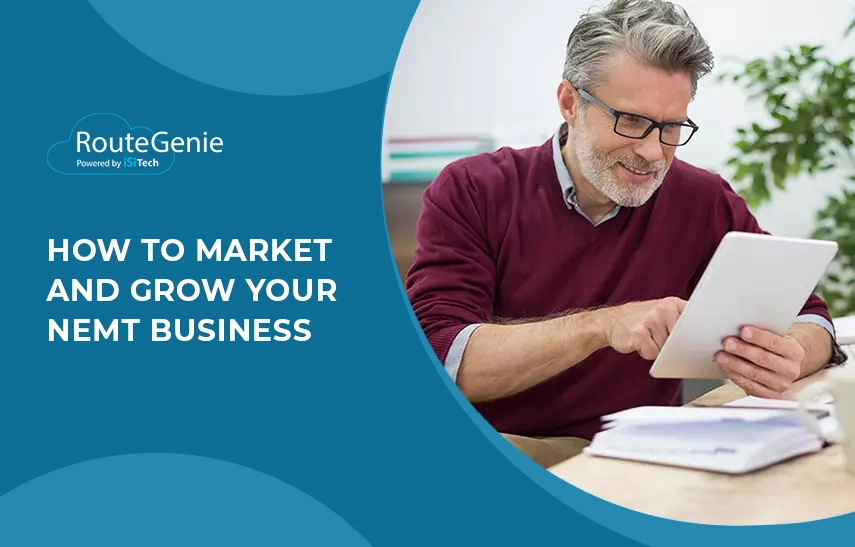 03/19/2021
3 mins read
{$ rating.avg|number:1 $}/5
({$ rating.count $} vote)
({$ rating.count $} votes)
Rate this post
0
Starting your own NEMT business is an exciting venture. As is the case with any new business, there's a never ending list of to-dos. You have to purchase vehicles, insure those vehicles, hire drivers and insure them, and after that's all set, you need customers. The truth is, there's no easy way to start a business, and the work doesn't stop once you hit the ground running. One of the biggest aspects of building your business and finding new customers comes from the marketing efforts you create. If this is uncharted territory for you, don't worry. We created a guide to help you dip your toes into the marketing world. After all, if you want your business to succeed, you'll have to attract customers somehow. 
Contents:
How to Market Your Business
NEMT is a unique industry with a target market that doesn't occupy the typical advertising space. These days, it's common to see ads almost everywhere we look—TV, streaming services, Internet browsers, social media, and more. But those looking for a ride with your NEMT company probably aren't on social media or the Internet frequently enough to be reached there. The best place to start is by researching your local nursing and retirement homes, assisted living facilities, and healthcare providers. If you can sell yourself to these groups, you'll be looking at a number of potential clients simply from building a relationship with a single company. Plus, once your customers feel comfortable around you and your drivers, they'll be likely to stick with you anytime they need a ride, rather than looking for a new company. 
What Sets You Apart?
Identifying your competitive advantages is a great way to set your business apart from the competition. For instance, if you're a brand-new business, you innately have an advantage already: it's easy to make personal connections with your customers. This may seem like a minute aspect of your business, but customers value the way they're treated and interacted with. As a small business, you have the capability to really get to know every client and their needs in order to provide the best service possible to them. This isn't something that should stop as you grow, but it's definitely something that becomes tougher as you gain more clients. Cultivating these relationships right off the bat will set a precedent within your company that providing a ride to a customer is more than just that—it's a place where they should feel safe, comfortable, and cared for. 
Personal connections are huge, but they aren't the only thing that will give your business a leg up in the industry. Having high standards for your employees, including on-time performance, clean and safe vehicles, and error-free trips will all boost your company's reputation.
Invest in NEMT Software
It may seem like an additional expense when your business is still small, but NEMT software is a useful tool for companies of any size. The program helps you schedule, route, dispatch, and bill every trip efficiently and without error. Not only will it save you and your employees time, but you'll also save money in the long term. If you're interested in learning what NEMT software can do for you, set up a demo with the team at RouteGenie for more information!
{$ rating.avg|number:1 $}
/5
(1 vote)
({$ rating.count $} votes)
Rate this post