How to Make Money in NEMT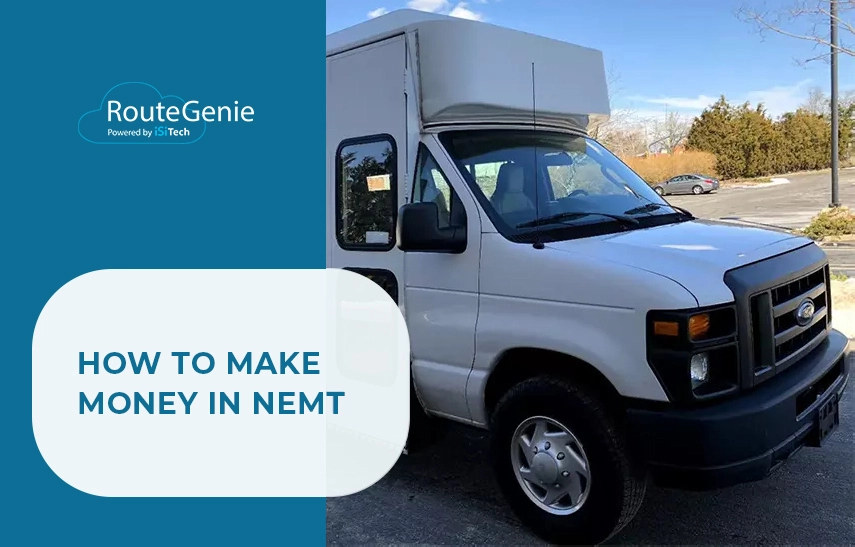 10/01/2020
6 mins read
{$ rating.avg|number:1 $}/5
({$ rating.count $} vote)
({$ rating.count $} votes)
Rate this post
0
Want to invest in the non-emergency medical transportation (NEMT) business? If you are a patient, kind person, and can communicate effectively with aged and disabled people, this is a great job for you! 
In this post, we'll discuss the basics of NEMT business and how to make money in NEMT.   
Contents:
What is NEMT?
Non-emergency medical transportation (NEMT) meets the needs of disabled and aging citizens by providing a safe, reliable, and convenient transportation service at their fingertips. With the help of the NEMT, these men and women can get to and from hospitals, ambulatories, nursing facilities, medical appointments, rehabs, pharmacies, critical treatment centers, and more. 
To provide a high-quality service, NEMT vehicles are equipped with all the necessary tools for comfortable and safe rides. Drivers pick up customers, provide assistance during a ride, then get them home if needed. Public transport can't support the level of hands-on service that NEMT providers can, making them unexpendable in present-day society.
How does NEMT get paid? Medicaid and Medicare insurance programs cover NEMT services for disabled people, people with temporary or permanent disabilities, seniors, aging adults living in hard-to-get-to areas, and other low-income citizens.
Advantages of Doing NEMT
There are numerous advantages of doing NEMT business. We'll discuss the most significant.
NEMT business is profitable 
We often get asked, "How much do NEMT companies make?" In the U.S., the NEMT rates for this type of service range from between $25 to $60 per hour, depending on the state. Therefore, if you work 20 hours per week at a rate of $25 per hour, you'll make $500 a week or $2,000 a month – that's an average part-time salary!
NEMT business is recession-proof
Experts predict a great increase among the aging population. Luckily, now we live longer, but that creates additional pressure on the whole healthcare system. Lots of older adults can't drive due to medical reasons, and it significantly reduces their mobility. Because of this, demand for services within this population continues to grow.
That's why the senior transportation business is a lucrative investment. Regardless of economic conditions, people will always have to get to and from their medical appointments, making the NEMT business steady and sustained. Demand will only grow with time.
No Need to Choose Between Being Helpful & Making Money
If you enjoy being helpful, you can turn it into a profitable business venture. In NEMT, your communication skills, patience, and empathy come into play. You'll succeed if you approach your service with personalization and companionship. This means that you should do your best so that seniors learn to trust you, which can in turn create a valuable bond and lead to loyalty. Thanks to good relationships, your existing clients will recommend your services to their friends. 
What You Need To Do NEMT
The first thing you need to provide the NEMT service is the right vehicle – a minivan, a bus, or a full-size van. 
Ensure that your vehicle has everything your clients might need – a gurney, wheelchair, oxygen tanks, dialysis machine, and more. This equipment will obviously raise the overall costs of your startup; however, it'll increase your reliability as well.
Note that your vehicle must meet the Americans with Disabilities Act (ADA) requirements and the ADA Standards for Accessible Design. 
Furthermore, you should buy the right NEMT software. It'll help you avoid numerous errors that might lead to client and money loss. A high-quality tool, e.g. RouteGenie NEMT routing software, streamlines the overall workflow since all operations are automated and digitized. 
Newbies often ask, "How does the NEMT company get paid?" Reimbursement becomes a straightforward process if you use the NEMT dispatch software since all payers prioritize electronic claims and pay them before the paper ones. 
To summarize, you shouldn't skimp on your NEMT vehicles and NEMT scheduling software, since you won't be able to provide quality service without these two things.    
Cost of Doing a NEMT Business
Starting the NEMT company costs an average of $350,000. You should include the following expenses into your business plan:
Registering your NEMT business- $725.
Legal fees, insurance, and license – $5,000.
Leasing – $100,000.
Utility bills – $15,000.
Office supplies – $10,000.
Vehicles – $150,000.
The Cost of Launching a Website – $500
Salaries for the first 3 months – $60,000.
Promo – $5,000.
Plan carefully and make sure you have enough money for opening and operating. However, there are some options for you to save, e.g., instead of renting an office, you can start performing from home. 
Where to Start?
Before you start your NEMT business, you need to make some preparations and have a few details already in place. You won't be able to book pickups and deliveries without the following things: they are the foundation to building your company. 
You must arrange legal documentation prior to opening. What will you need?
Get a state license for NEMT –  note that every U.S. state has its own rules and regulations concerning licensing. Check the requirements with the Department of Driver Services and the local health care services department. 
Get certificates – although certification isn't required, specialized courses are becoming a standard because the demand for specialists increases. Drivers should learn different passenger assistance procedures and methods to serve people with disabilities. 
Choose the right insurance plan – it should include a two-part formula: coverage for a driver and coverage for the company. Consider an all-in-one insurance plan since it'll give you peace of mind: any damage due to bad road conditions or accidents will be covered. 
Create a business plan – you can't start not knowing the cost of your business and the way you'll run it.    
Final Thoughts
Nowadays, the possibilities are limitless for NEMT! We are sure that your desire to help people will lead you to success. Follow our simple tips, and you'll be able to run your business smoothly.  
{$ rating.avg|number:1 $}
/5
(1 vote)
({$ rating.count $} votes)
Rate this post