Non-emergency medical transportation drivers are responsible for transporting passengers to and from their healthcare appointments. Some companies complete dozens of trips every day, which means their vehicles are bound to experience maintenance problems from time to time. That's why it's important to stay mindful of a vehicle's condition and complete pre and post-trip checklists after each ride. That way, when a problem is detected, everything is properly documented and the issue can be addressed as soon as possible. You shouldn't rely on your team to do this on paper, though. RouteGenie offers an in-software driver checklist that helps pinpoint any maintenance problems right away. Here's why you need NEMT driver scheduling software with an in-depth checklist system.
Detect a problem as soon as possible
When your drivers are responsible for completing a pre and post checklist every day, it's very unlikely that a problem will go unnoticed. Instead, you're able to identify a vehicle issue right away and work quickly to fix the problem. 
Specify what kind of problem is found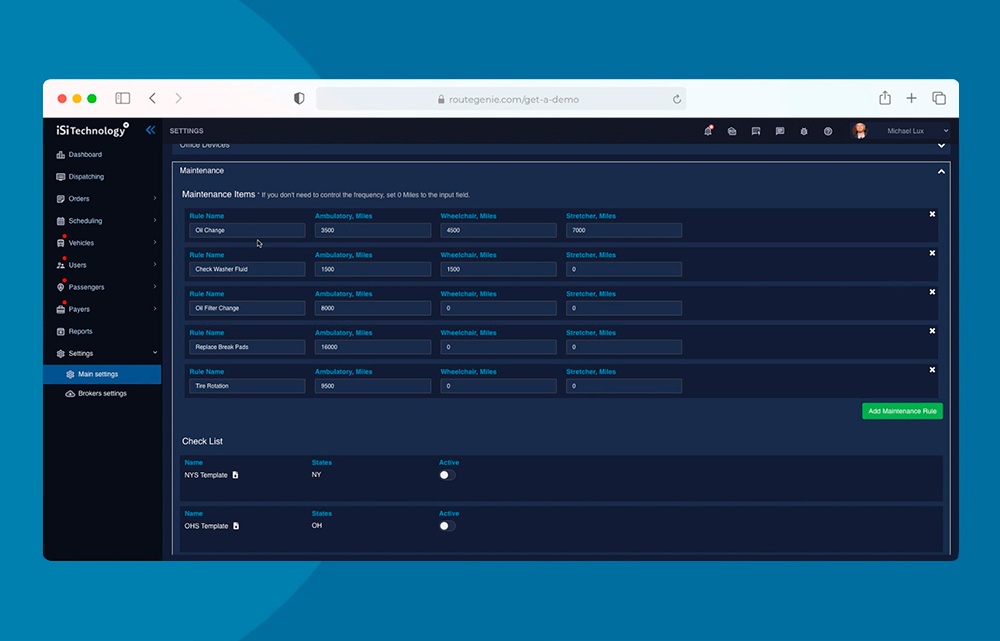 When your drivers complete their checklist in RouteGenie, it's easy to add custom fields, add additional details about the problem, and make sure that the found issue is described well enough for a mechanic to handle it later on. The system lets drivers choose whether the problem is a major or non-major one, which modes of transportation it applies to, whether it's a pass/fail, scale, number, or text question, and whether it applies to the beginning, end, or both beginning and end of the shift. This allows all information to be stored safely in the system so a mechanic can review it soon after. 
More eyes on a vehicle every day
Sometimes when we look at the same thing for too long, it's hard to notice if something isn't as it should be. The same is true for a driver who's going through the motions of completing trip after trip, either in the same vehicle or a vehicle that looks similar. Overlooking a problem is common with so many other things going on at once, so pre and post-trip checklists ensure that two different drivers are reviewing the same vehicle in the same condition. If one driver misses something, the next could pick it up and flag the problem. At RouteGenie, we believe teamwork is the best way to be successful, so this process depends on multiple drivers to uphold a safe fleet. 
Seamless communication between driver and mechanic
Your drivers aren't usually present during a mechanic's inspection, which means the mechanic needs to know exactly what might be wrong when they're servicing a vehicle. RouteGenie makes that transfer of information simple by storing all answers and notes from the checklist and sharing it with the mechanic. When the mechanic is servicing the vehicle, they can go into the system and see which problem was marked down by the driver and indicate if it's been repaired, still needs to be repaired, or doesn't need to be repaired. 
See how RouteGenie takes driver checklists to the next level
You can't take any chances with your vehicles. Stay on top of maintenance issues with daily checklists—easy to complete directly through the RouteGenie NEMT driver app. For your free demo, get in touch with the experts at RouteGenie today!